The Apple Health app gathers health data from your iOS devices such as an iPhone or an iPod Touch. The app is built in—you do not need to install it.
After completing the myFHR iOS app registration, you are asked if you will allow myFHR to access your Apple Health Records. Click "Continue" to allow access. Allowing access imports your Apple Health data into myFHR, allowing you to view more health data in one convenient place.
Apple Support provides information about using the Health app on iOS devices.
After allowing access, use the resulting screen to enable the categories of Apple Health Records that you will allow myFHR to access, and then touch "Share Current Records."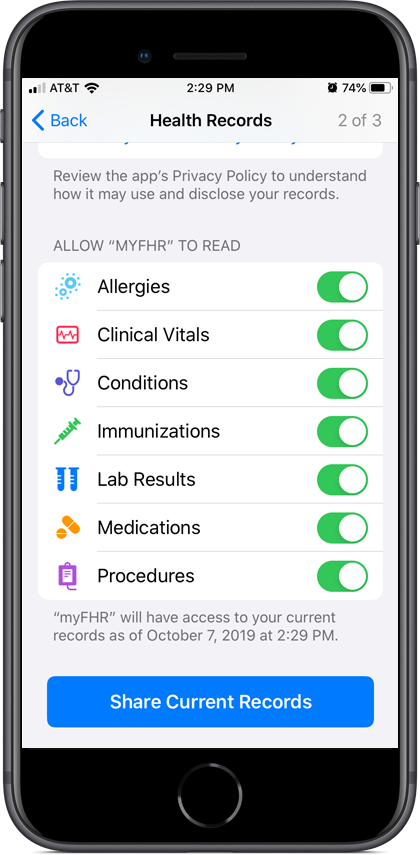 Select how you would like to share new records—"Ask Before Sharing" or "Automatically Share."
Enable the Apple Health categories you wish to share. Enable all categories by selecting "Turn All Categories On" or enable each category individually, and then select "Allow" in the upper-right corner.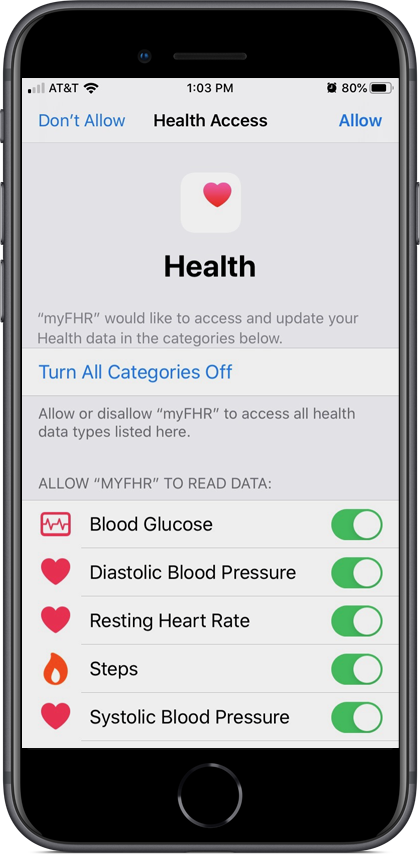 You can change your preferences at any time by going to your phone's Settings, selecting "Health → Data Access & Devices → myFHR," and enabling or disabling Health Records.